Overview Of Online Trading Platforms
Trading in stocks is no longer considered a gamble. An investor can earn a decent amount of revenue with all the right tools available at their disposal. A trading platform is a stage that sets the environment for the arena of online trading.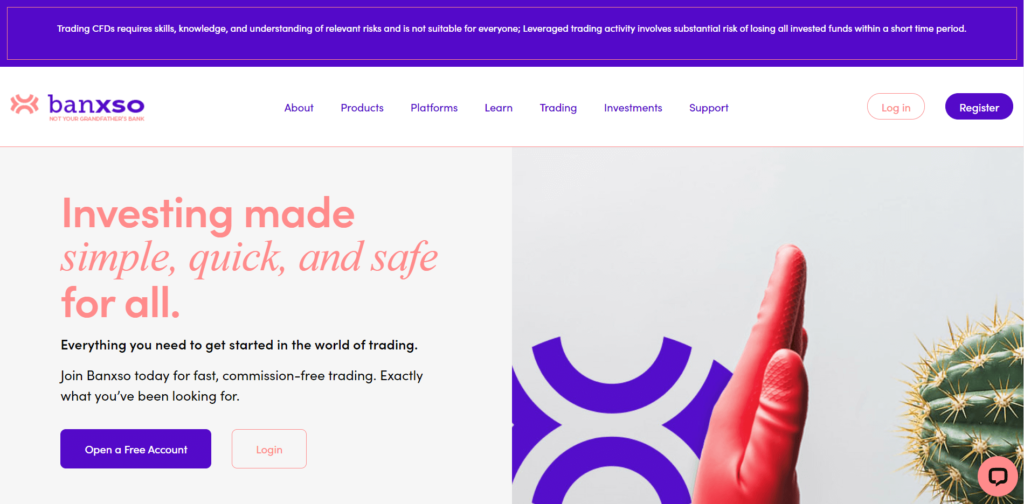 The era of the internet has significantly boosted the scope of trading, which is why the online and trading platforms are now called Online Trading Platforms.
An Online Trading Platform is a bridge between an investor and a company, where the investor can invest a considerable sum in the stocks of their choice. A group of brokers is an important element to keep this bridge working. Brokers generally maintain the trading accounts on behalf of an investor. Their revenue comes from the occurrence of a trade or a fixed maintenance fee.
Investors have resources available at their fingertips to research the stock and make an informed decision, which was earlier a difficult task to execute. Online Trading Platforms are known to deploy databases in a sophisticated architectural manner. This serves as a base for every resource that an online trading platform provides to its investors.
What Is Banxso?
One online trading platform that is way ahead of its time is Banxso. The functions of Banxso are based on Contracts For Differences, popularly known as CFD. The operations of Banxso are handled under the company name XF Services Limited. The company is also responsible for handling the official website of the online trading platform.
Banxso is entirely regulated by CySec, which is short for The Cyprus Securities and Exchange Commission. The online trading platform functions within the framework of MiFID, also known as Markets in Financial Instruments Directive.
Trading in stocks, or any other financial instrument, is risky. The fluctuations occur frequently based on the product that an investor has chosen. Banxso minimizes this risk by emphasizing educating its investors. All the major portion of the profit for Banxso comes from providing a seamless trading experience. It simultaneously focuses on providing adequate knowledge and market insights to its registered users.
Features Of Banxso
Out of all the online trading platforms available on the internet, Banxso succeeds in attracting investors in large numbers. The secret is in the features that it offers to its users. The three major features of Banxso are as follows:
Commitment
Banxso commits to keeping its traders informed about the market. This empowers the traders to make an informed decision.
The online trading platform educates its users about the different products and platforms that it offers. Such pieces of information allow the traders to navigate from one section to another. It becomes easier for them to balance the level of risk. It offers a compilation of material that enables the users to review all the tools and investment strategies.
Choice Of Tools
Investors get enough opportunities to implement the tools that they have studied. Banxso keeps itself updated with the prevailing trend in technology. It incorporates all the tools with their updated version into the dashboard. Banxso extends the accessibility of such tools to every investor, irrespective of their experience level.
Being defensive about its tools is the last thing that Banxso considers. It relies a lot on its cutting-edge technological updates unless traders share negative feedback about it.
Variety
The variety here refers to three dimensions. The first dimension is from the perspective of a trader. Banxso caters to every trader irrespective of the level of experience they have. Whether a beginner or an expert, every trader is treated equally and is offered the same resources.
Its features are unique, which is something that is considered important at Banxso. It is worth noting that the features serve a productive purpose. Banxso goes beyond the way to offer more than it commits. It gives additional benefits with every update that comes up in the market.
How To Open A Banxso Account?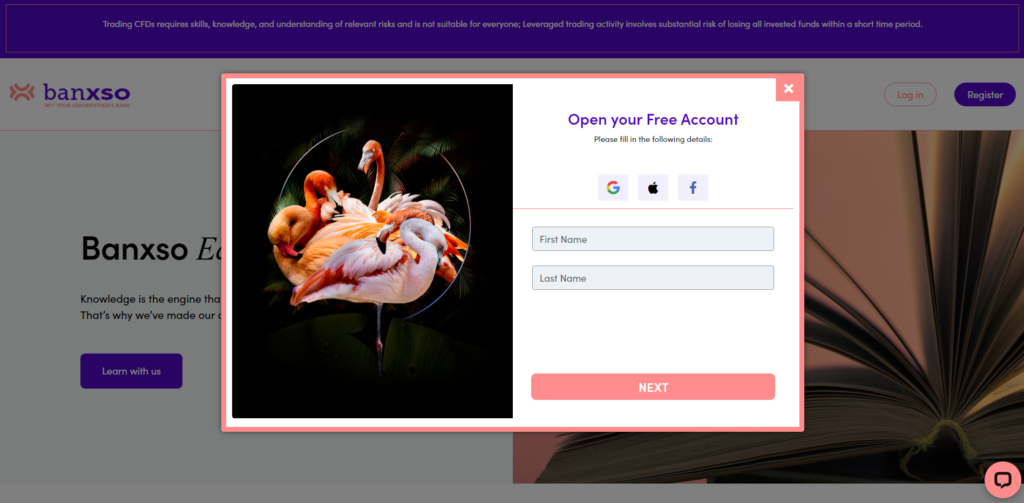 It is easier to get onboard with Banxso. A person that is interested in getting started with online trading should visit the official website of Banxso to create his or her profile.
The person will have to scroll down to click Open A Free Account. The website will redirect to the trading chart with an option to sign up for the services. Once the person clicks the option, he or she will view a pop-up window to enter details like full name, contact number, and email id. The pop-up window also has a space to enter a promo code. Tick two boxes at the bottom and click Submit. The journey to trade online will begin immediately.
Beginners can avail the facility of accessing Banxso Demo Account Service. This will assist them to understand how the trade occurs and what are the different functions of the online trading platform.
Types Of Trading Products Offered By Banxso
Traders can move on from one trading product to another at any time. The list of products offered by Banxso for trading is reasonably huge. It consists of five products. They are as follows:
Forex
Forex is a trading product that is highly preferred by Beginners. Investors can start small and invest more money once they get a grip over the trading process.
Foreign exchange is also opted by traders that have a lot of experience and seek a reliable option to invest their money. It is available to be traded for 24 hours five days a week. Traders can explore Option Trading as well. Both the versions are less volatile. Investors can trade in and out quickly.
Stocks
Trading traces back to the origin of stocks. That is how the process started and came to its final shape. Investors can make intelligent trades to generate potential profits on the online trading platform. Having basic knowledge about stock trading is a huge plus.
Banxso offers a level playing field. It treats every trader as the same. A resource that is available to the experienced trader is also made available to a beginner. No piece of information is hidden from either of them.
Indices
Indices offer a wider perspective for trading. While they offer an opportunity to invest in regional markets, they also go beyond that to enable the traders to expand their portfolios.
Indices are generally preferred by traders to keep their investments for the long term. Traders must be capable of analyzing how their investments will turn out in the distant future. Investors have derived benefits from Indices during a short-term investment as well. That is one option that can be tried; however, the long-term investment must be strongly considered.
Commodities
Banxso allows the traders to find their comfort. With Commodities, traders come across three broader classifications. Both, or either, can be chosen based on the trading style and preference of the investor.
The first classification is Energy Commodities, which includes natural gas, wind power, and gasoline, to name a few. The second classification is Soft Commodities. This covers agricultural goods, such as sugar, corn, and coffee. The third classification is Precious Metal Commodities, which include copper, silver, and gold.
Cryptocurrency
It has been nearly a decade since Cryptocurrency came into existence. After years of debate about its security and other issues, Cryptocurrency has finally gained the recognition required to be traded. Banxso keeps up to its commitment by enabling the investors to put their money in Cryptocurrency. It has listed all the major Cryptocurrencies along with their detailed analysis.
The trading in Cryptocurrency is in its initial years. It is, therefore, important to go at a slower pace. Investors must utilize all the available resources regarding investment in Cryptocurrency to mitigate its nature of high volatility.
Types Of Trading Platforms Offered By Banxso
The horizons of Banxso widen up for two more trading platforms. Registered users can navigate from one platform to another with ease. They are not required to put in a lot of effort. The two trading platforms offered by Banxso are:
MetaTrader 5
MetaTrader 5 has evolved as compared to its previous versions. It functions faster with the key feature of offering algorithm-based trading to all the traders. It is a multi-asset platform with flexible trading operations. The functioning covers centralized and non-centralized financial markets. The 64-bit online trading platform is available in multiple languages.
Trading facilities of Meta Trader 5 go beyond Foreign Exchange Instruments. Its previous versions had set a reputation of being the best in the market. MetaTrader 5 does not only stand up to that reputation but it sets a stage at another level for other versions to soon follow suit.
Mobile
Maintaining the online trading account is easier with Banxso. Its Mobile trading platform lets the users review their transactions on the go.
The mobile platform of Banxso is for Android and iOS. It supports all the functions related to trading in a comprehensive manner. The analytical resources can be accessed at any time and at any place.
Banxso accommodates the background of every investor and makes it easy to understand how one can use all the available resources. Traders can monitor the status of their trading account while reviewing their transaction history.
Educational Services And Investment Strategies By Banxso

No matter what the product an investor chooses or the platform where he or she opts to trade, the risk remains equal for all. The risk of losing capital can be tackled only by ensuring that the investors are well-educated about every aspect of online trading.
Banxso looks into the commitment of educating all the investors on its platform. It provides an online academy at no additional cost. Registered users can access the online classes and webinars at their convenience.
Beginners can develop trading skills while experienced traders can hone their trading skills. Online learning tools are available for everyone irrespective of their background and experience.
Traders can also sign up for personal coaching. A personal coach looks into the current investment portfolio and recommends making changes to earn more profits.
Once done with the course, traders can navigate through different online products and platforms. The risk of losing the capital will be automatically minimized as traders would be well-equipped with all the required information.
Banxso Customer Support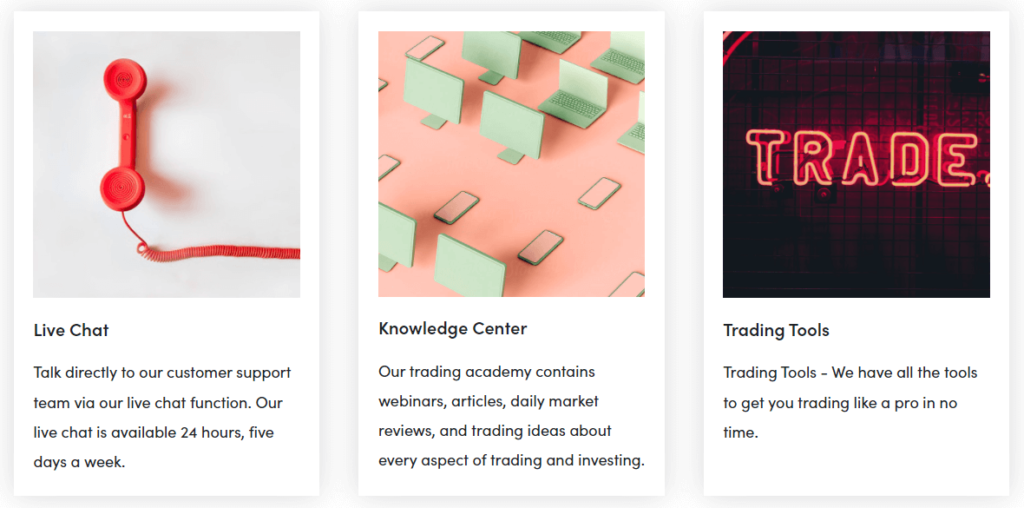 Customer Support is the pillar of every company. Its presence becomes more supreme when the company is dealing with the money of its users.
Banxso offers various products and platforms. Users can face issues, stopping them from proceeding further with more investments. Such actions hamper their growth as they often end up losing potential profits.
The registered users can contact Banxso through Email at support@banxso.com. It works 24 hours every day with a response time of at least one day. The Live Chat facility directly connects the trader to the support staff. They work 24 hours for five days a week.
Additionally, investors can rely on the market reviews that are published every day by Banxso. They include important insights that are crucial for investors to make decisions related to trading. Daily Market Reviews are a part of the knowledge center of Banxso, which also includes articles. These are published frequently to share updates about the market.
Why Choose Banxso For Trading?
Banxso gives more than one reason to opt for it. The online trading platform has a large number of investors that perform trades regularly. Here are a few reasons why they chose Banxso and why other traders should consider opting for Banxso as their online trading platform.
Banxso offers a global reach to investors. They can trade in any product with no restriction in terms of nationality.
The platform is easy to master. Beginners may take some time but it would still be less as compared to what they will spend on other online trading platforms.
Its trading is based on algorithms and AI. The analytics generated are more effective and accurate. Investors can review them to make future decisions.
Banxso offers valuable insights and knowledge to registered users. It accomplishes this task by keeping its educational services accessible for 24 hours every day.
The online trading platform is for everyone. A trader can register and begin trading with a small capital amount. He or she can then expand their investment portfolio based on how confident they feel.
Is Banxso Legit Or Not?
The legitimacy of Banxso holds true. The online trading platform is regulated by the Cyprus Securities and Exchange Commission, short for CySec.
The functions of Banxso are recognized in 27 countries of the European Union. Any person residing in these 27 countries, or someone holding European citizenship, can access Banxso to trade their preferable product. Banxso works as per the rules outlined by the Markets in Financial Instruments Directive, also known as MiFID.
Conclusion
A beginner must gather sufficient information about all the products and platforms before getting onboard. While Banxso provides all the relevant pieces of information, having prior knowledge will help to understand everything better.
All the products are highly speculative. The level may vary but the core principle is to be informed before performing a trade on the online trading platform. Understand the risk that online trading carries and work to minimize them to the lowest level possible.
FAQs
Can Someone Trade in Cryptocurrency?
Yes, Banxso enables registered users to trade in Cryptocurrency.
What Educational Tools Are Provided by Banxso?
Banxso offers online courses, webinars, and personal coaching to all the traders that have registered on the platform.
How Can a Trader Send an Email to Customer Support?
A trader can send an email to customer support through any device. The email id is support@banxso.com.
Is the Mobile Trading Platform Available for iOS Devices?
Yes, Android and iOS users can access the Mobile Trading Platform of Banxso.
Are All the Benefits for Only the Registered Users?
Yes, all the benefits and features are available only if a trader registers on the platform.